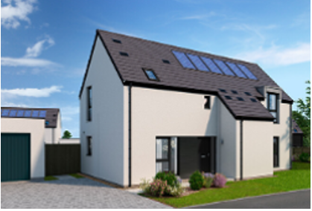 Scotia Homes, Brechin Angus
Investment £1.0m | 152 Homes
Region: Scotland
Sector: All
Size: 150+ homes
Type: All
HGP invested £1m alongside Scotia Homes to support delivery of a 152 unit family housing scheme in Brechin, North East Scotland.
Scotia are a long-established, award winning regional housebuilder operating across Angus, Aberdeenshire and the Highlands with a reputation for delivering attractive, good quality family housing.
The scheme will deliver a mix of 2, 3 and 4 bed houses on a greenfield site situated in an attractive residential area located at the North West edge of Brechin, a popular market town in Angus.
With little new build in the town over the past 10 years the site is expected to benefit from strong local demand across the Angus region including commuters into Dundee and Aberdeen.
Scotia Homes have placed sustainability at the heart of their design and delivery. All of the homes at Brechin will benefit from air source heat pumps with Scotia early adopters of transitioning away from gas.
Scotia's approach has resulted in Brechin being the first scheme in the UK to be accredited with a "Gold" standard by the "NextGeneration" sustainability standards scheme.