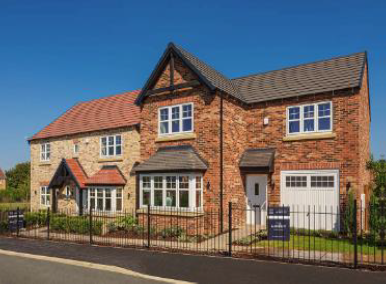 Duchy Homes, Chapelgarth, Sunderland and Elwick, Hartlepool
Investment £4.5m | 341 Homes
Region: Yorkshire and the North East
Sector: All
Size: 150+ homes
Type: All
HGP invested £4.5m alongside Duchy Homes to support the delivery of 341 homes across two large schemes in Chapelgarth, Sunderland and Elwick, Hartlepool.
Duchy Homes is a well-established and award winning regional housebuilder, delivering over 200 units per annum, with operations across Yorkshire, the North East and North West. HGP have been a long term partner of HGP, with the investment representing the 6th and 7th site co-invested by HGP.
The 162 unit Elwick Scheme is the first phase of a wider "High Tunstall Farm" residential masterplan which will deliver 1,200 which benefits from a good range of local amenities and schools.
The 179 unit Chapelgarth scheme forms part of a wider "Potters Hill" masterplan to deliver 750 new homes in a key regeneration area of Sunderland located in close proximity to the Doxford International Business Park, a 125 acre site which employs over 8,000 people.
Both schemes will develop a range of quality 3, 4 and 5 bed room two storey homes, supporting much needed delivery of good quality family housing to the wider North East region