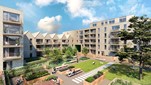 Artisan Real Estate, Corstorphine, Edinburgh
Investment £3.3m | 126 Homes
Region: Scotland
Sector: All
Size: 50-150 homes
Type: All
HGP invested more than £3m alongside Artisan Real Estate to support the development of Rowanbank Gardens in Corstorphine, Edinburgh, comprising 126 energy-efficient, low carbon homes.
Artisan is an award-winning UK property developer perhaps best known in Scotland for large scale city regeneration projects like New Waverley, which has transformed the heart of Edinburgh's historic Old Town. The developer is now applying the same values and philosophy which has guided the successful design and execution of New Waverley to its residential developments, setting it apart from other major homebuilders in Scotland.
The development will deliver a mix of one-, two- and three-bedroom apartments, all designed around a central courtyard garden, filled with fruit trees and communal planting beds, that will provide nearly twice the level of open space recommended by council planning policy. Apartments are designed for open plan living with large windows giving views of the courtyard and the wider area, while green roofs ensure benefits of surface water retention, insulation and ecology.
Linking closely with the City of Edinburgh Council's 'Future Edinburgh' strategy which aims to make the city carbon neutral within the next ten years, Rowanbank's smart building design has been matched with an innovative approach to placemaking and community – introducing such creative concepts as green roofs, 'edible' gardens and green transport plans to sensitive city centre environments, which includes all-electric charging points for the provided car parking, City Car Club spaces and generous secure cycle parking.